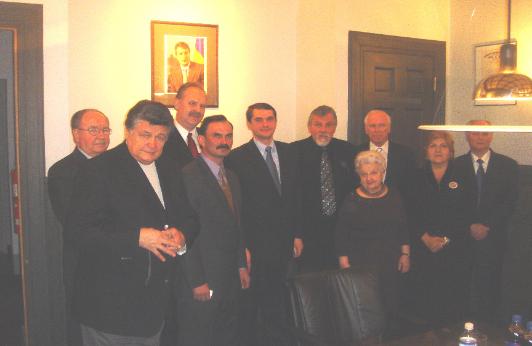 Pictured from left: Sviatoslav Lychyk, Mykola Mischenko, Pavlo Bandriwsky, Bohdan Melnyk, Dr. Oleh Shamshur, Orest Baranyk, Julian Kulas, Ivanna Gorchynsky, Olya Korzachenko, and Vasyl Korzachenko
Ukrainian Ambassador Meets with Chicago Community Leaders
By Pavlo T. Bandriwsky Chicago, IL — On Tuesday 21 February 2006 the recently appointed Ambassador of Ukraine to the United States, Dr. Oleh Shamshur, invited  Chicago Ukrainian community leaders to meet at the Ukrainian Consulate in downtown Chicago for a briefing and dialogue. Membersof the group included the leadership of UCCA Illinois Division, Ukrainian Genocide Famine Foundation and The Heritage Foundation of 1stSecurity Federal Savings Bank.
Ambassador Shamshur presented his agenda, listing issues he would like to accomplish which included Jackson Vanik graduation,establishing a Ukrainian information and cultural center, and closer cooperation between the Embassy staff and the Ukrainian communities.With an evident grasp of diaspora issues, his presentation was genuinely conveyed and optimistically received by the attendees. During thedialogue Ambassador Shamshur was informed of the vast contributions the Chicago community has delivered not only locally but on anational scale, supporting Ukrainian American initiatives where needed. Also addressed were questions involving the upcomingparliamentary elections and matters related to broader recognition of the Ukrainian Holodomor (Genocide).
At the meeting the newly designated Consul General of Ukraine in Chicago, Vasyl Korzachenko and his wife, Olya, were introduced. As themeeting concluded, participants pledged to continue to work together in promoting Ukrainian democracy and facilitating business investmentin Ukraine by American companies. Ambassador Shamshur promised to return to Chicago soon to meet with the immense Ukrainian community.